Dan Curl
asked me to call
Gene Riggin
about trying to build a desk prototype or pattern. He had some very practical advice. Of course the prototype will probably be the final model. Except, after a week, I'm changing the shape.
Gene's advice, "You may want to first use a 4x8 sheet of film coated foam ($10) to get the right shape with a razor knife before using a jig saw on the plywood."
Its one of those pieces of insulation you see cladding new houses these days. Thanks for the advice, Gene. I would have wasted a lot of time and butchered a lot of plywood otherwise.
To refresh the story go to "How to "redesk" my office ... " or just have a look at the picture
I needed to place my monitor and keyboard and figure out the curves.
As you can see from the lines, I tried out a lot of curves and shapes. I made a pattern for the exact size and shape of the monitor / keyboard footprint. Then I figured out the perfect placement of my forearms and elbows. Finally I found a shape seemed to work and cut the foam. I think it's going to be good.

Katherine and I tried it out in place: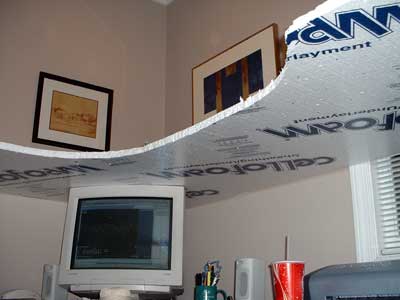 Next step: do it in plywood and try it for a while.
A $40 piece of oak faced plywood from Lowes, a piece of string as a compass for drawing the curves, a saw with a new blade and:

I don't like the file cabinets. they make the desk about 1 1/2" too tall and a it makes an uncomfortable difference. But they work for now.
I'm changing the shape.
I've been on the desk for a week and I don't like my cut. I need more desk space between me and the keyboard. More space and more places to rest my arms and a place for a 8x11 writing pad. I made a cardboard prototype:

There won't be a gap. I think this is about perfect.
Covering it with Formica. It's gotta look good, like real furniture, and have a decent work surface. Plain plywood isn't horrible and I could paint or stain it but a bona fide office desk surface would be nicer. Gordon and I picked out Wilsonart Laminate 4796-60 "Burnished Chestnut." Gordon says it's not "busy" (won't divert the eye from the cool stuff in the bedroom) and goes great with the paint color and everything else. Here are some instructions.

Wilsonart Laminate 4796-60 "Burnished Chestnut."

Somewhat as it was before it used to have two file cabinets and much more junk:

Thanks again to Gene Riggin at Tansu L.L.C. "Custom woodwork, specializing in Japanese Design, Janapese Tansu, Shoji, Iko, Fusuma, and Tatami rooms." He's in Decatur, Georgia.