Thu, 23 September 2004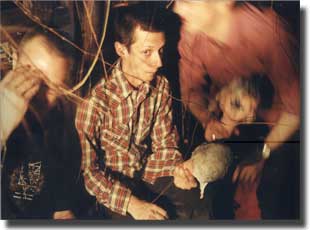 Euphonic Productions presents:
psi
Gruppe Freie Elektronisch
9pm, Thurs, Sept 23
Eyedrum
290 MLK Jr. Drive, Suite 8
404-522-0655
www.eyedrum.org
psi
Jaime Fennelly - electronics
Chris Forsyth - guitar
Fritz Welch - drums, cymbals & objects
Brooklyn, New York based electro-acoustic trio.
Cathartic, hermetic, meditative noise that slowly evolves into nothing.
Together they have released two records, "The __ who had begun his career as a useful __ of the __ court later became the __ of __ and the__ of __." (Evolving Ear) and their newest release "Black American Flag" (Evolving Ear).
www.evolvingear.com
www.antiopic.com/allegorical/september2003.html
www.fluxartspace.org/gallery/album85/psigroup
"(psi) retains an overall warmth that separates them from the experimental pack."
- BUFFALO (NY) ARTVOICE, April 2003
"psi makes landscapes of creepy music."
- WASHINGTON DC CITYPAPER
"a weird, subversive, static melange of sounds"
- ALL MUSIC GUIDE,
www.allmusic.com
"a very beautiful album of full-bodied and resistant electro-acoustics rather than the evanescent and whispered school like we otherwise often hear. Their choices are always original and personal. An album not to be missed." (8 out of 10)
- BLOW UP, Italy, June 2003
"The distinction between the flowers and the weeds in the fields of experimental improv may be hard to explain but it is not hard to hear. psi is a pleasing reassurance that our belief in the genre is not purely
religious."
- Tom Worster, www.brainwashed.com
"this is the sort of stuff that could sterilize cockroaches from 50 yards."
- AIDING & ABETTING, www.cent.com/abetting/index.html
"psi have that rare gift of a keen capability of holding their horses at the right moment, using their instruments just like nail-files: a unique touch here, an overlap there, and the majority of this genre's habituals gets outmoded all at once. Follow them."
- Massimo Ricci, Touching Extremes, www.touchingextremes.org



Gruppe Freie Elektronisch: (GFE)
Ana Balka - violin & guitar
Jeff Bradley - double bass
Scott Burland - pedal steel, keyboards, electronics
Rob Cheatham - saxophones, keyboards
Bob Hulihan - electronics, guitar, theremin, etc.
Milt Jones - percussion, etc.