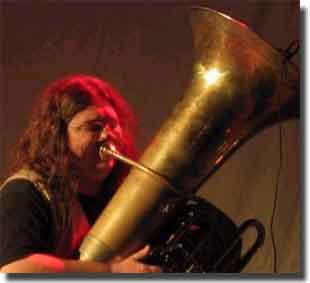 Euphonic Productions presents:
Tom Heasley
David Kirby - piano, electronics
Jonathan Cantrell - electronics
9pm, Thurs, Sept 18
$5 at the door
Eyedrum
290 MLK Jr. Drive, SE, Suite 8
404-552-0655
www.eyedrum.org

Tom Heasley is an internationally acclaimed composer, performer, improviser and recording artist whose compositions for electro-acoustic tuba create "a rich and sonorous aural experience that flies in the face of all the dumb cliches about what tuba music is." His music speaks to a wide variety of listeners, from students of Oberlin Conservatory to prisoners of San Quentin.
Following the May 2001 release of his first CD of ambient tuba music - Where the Earth Meets the Sky (Hypnos) - Mr. Heasley toured throughout North America, performing almost 30 solo concerts.
With the April 2002 release of his second CD - On the Sensations of Tone (Innova) - Heasley continues to redefine one of the world's least appreciated instruments and, as a result, finds himself increasingly in demand.
His music has recently been featured on National Public Radio, BBC Radio 3, Public Radio International, John Schaefer's New Sounds on WNYC, NPR favorite Hearts Of Space, John Diliberto's PRI syndicated Echoes and many other radio programs, from Silicon Valley to Siberia. In 2002 Heasley was awarded an Artist Fellowship in Music Composition by Arts Council Silicon Valley. His work has also been supported by the National Endowment for the Arts, the American Composers Forum and the McKnight Foundation.
Mr. Heasley returns to the east coast in Fall 2002, this time concentrating on New York City, where he will perform at Roulette, the Knitting Factory and CBGB's. While there, Mr. Heasley will record a performance for John Schaefer's New Sounds program on WNYC for future airing. Mr. Heasley has been invited to perform at the BBC in London in 2003. From there, he will embark on his first European tour.
In the past, Mr. Heasley has performed, recorded or otherwise collaborated with an amazing variety of creative artists, including Bobby Bradford, Eugene Chadbourne, The Berkeley Symphony, Alvin Curran, Stuart Dempster, Charlie Haden, Pauline Oliveros, The Merce Cunningham Dance Company, Loren Mazzacane Connors, Milcho Leviev, Oakland Ballet, Don Preston, Robert Rich, Lois V Vierk, Cabrillo Music Festival Orchestra, Frederic Rzewski, Glenn Spearman, Henry Brant, Anne LeBaron, Gerry Hemingway, Jonathan Harvey, Wadada Leo Smith, Malcolm Mooney, John Carter, Oxbow, Marco Eneidi, Tuolumne Brass, Gunther Hampel, David First and Bertram Turetzky.
For further info, please see: http://www.tomheasley.com/

David Kirby has been playing piano since the age of 7. Initially he was
classically trained, but quickly began to improvise. Heavily influenced by
avant-garde, free-jazz, and minimal music, David has developed a unique style that
focuses on the sounds behind the notes. "I'm interested in the patterns and
oscillations formed by the overtones and resonance of the piano." David has also
been producing dance, ambient, and glitch since the early nineties.

Jonathan Cantrell is an engineer, producer, and sound designer. Through
working professionally in commercial music, he began to desconstruct recording
concepts, utilizing inherent chaos within digital systems to create other-worldy
sounds. His focus lies in the detail of a sound, squeezing the most out of whatever
source material he is given.
For this performance, David will be playing piano and sine waves; Jonathan
will be manipulating the sound live with two 2.4g P4 computers. Together they create
a rich environment, beginning with a single note and ending in a massive wall of sound.